Dennis J. Crudele, Interim President
Florida Atlantic University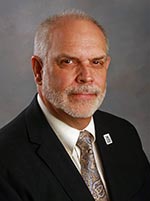 Dennis J. Crudele, a longtime administrator at Florida Atlantic University, became the University's Interim President on August 13, 2013. He was named to the interim position by the Board of Trustees after serving for three months as Acting President.
Prior to assuming that role, Mr. Crudele was FAU's Senior Vice President for Financial Affairs, with oversight responsibility for many departments and functions of the University, including Human Resources, the FAU Police Department, the University Budget Office, Business Services, the University Controller, the Purchasing Department, Administrative Technology Support Services and Business/Auxiliary Services. He also is Executive Director of the FAU Finance Corporation and he serves as liaison to the Audit and Finance Committee of the FAU Board of Trustees.
Mr. Crudele came to FAU in 1987 as Director of Purchasing after serving as Associate Director of Purchasing at the University of South Florida for one year. Over the course of 26 years at FAU, he has risen steadily through the ranks, serving successively as Assistant Vice President for Administration and Finance, Assistant Vice President of Operations Management in the Division of Student Affairs, Associate Vice President for Financial Affairs and Acting Vice President for Financial Affairs. In 2010 he was named Senior Vice President for Financial Affairs, overseeing an operating budget of $587 million. He has played a major role in the University's efforts to deal with challenges generated by repeated deep cuts in state funding, totaling $79 million over six years.
Mr. Crudele spent eight years at the Florida Board of Regents, which was the governing body of the State University System until 2003, when it was succeeded by the Board of Governors. From 1978 to 1986, he held a number of positions at the Board of Regents, including Office Operations Supervisor of Business and Financial Services and Purchasing Agent. His service on the Board allowed him to gain system-wide knowledge of the business/financial side of university operations.
Mr. Crudele has a bachelor's degree in political science from Florida State University.