Campus Sustainability
Carpooling
Carpooling to campus is a great and simple way to save money on gas. As a student, faculty, or staff you will be able to use the reserved carpooling spots on campus when you sign up for the carpooling program. To sign up for a carpooling permit, visit South Florida Commuter Services! 
Reserved parking for carpoolers - Click Traffic and Parking for details.
---
Tri-Rail
Taking the Tri-Rail to FAU is a great way to avoid the parking and traffic headaches. Not only is it an affordable option, but it is a great way to reduce your carbon footprint. 
Cost Savings for FAU Students, Faculty, and Staff
Students

Beat the traffic and parking by taking Tri-Rail to FAU. Students have the opportunity to take advantage of Tri-rail's student discount program for the duration of their enrollment at FAU. Students will receive a 50% discount when they show proof of enrollment with either their Owl Card and/or class schedule, contact 1- 800-TRI-RAIL (800-874-7245) for your discount card today! 
Faculty
Did you know that through Tri-Rail's FAU discount program, employees can enjoy a relaxed commute to work while saving gas, time, money and helping the environment. Riding Tri-Rail is one way to reduce air pollution, preserve natural resources and improve your quality of life. To get your 25% savings, simply complete the follwoing application. You'll receive a discount pass quickly and easily.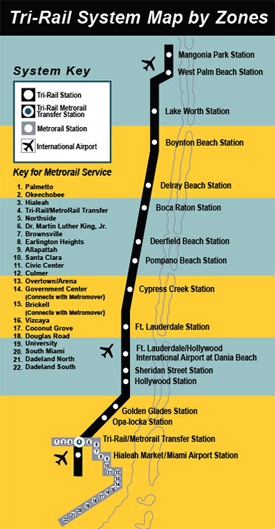 Zoned Fares
Zoned fares apply to students/faculty that wish to use only the Tri-Rail station. If you wish to travel using the Miami-Dade transit system, you will need to purchase the Regional Monthly Pass. 
NUMBER OF ZONES TRAVELED

ONE WAY

DISCOUNT
ONE WAY

ROUND TRIP

DISCOUNT ROUND TRIP

12 TRIP

MONTHLY

DISCOUNT MONTHLY

 

1

$2.50

*$1.25

$4.40

*$2.50

$21.25

$100.00

*$50.00

2

$3.75

*$1.90

$6.25

*$3.75

$31.25

$100.00

*$50.00

3

$5.00

*$2.50

$8.45

*$5.00

$41.90

$100.00

*$50.00

4

$5.65

*$2.80

$9.70

*$5.65

$47.50

$100.00

*$50.00

5

$6.25

*$3.15

$10.65

*$6.25

$52.50

$100.00

*$50.00

6

$6.90

*$3.45

$11.55

*$6.90

$57.50

$100.00

*$50.00
*Note discounted prices apply only for students. Faculty and staff using the employer discount program will receive a 25% discount off original prices. E.g. Discount Monthly passes for faculty and staff will be $75.
Regional Monthly Pass
The regional monthly pass is for those that travel using the Miami-Dade transit system in addition to the Tri-Rail system. 
| | |
| --- | --- |
| Full-Fare | $140.00 |
| Employee Discount Program (Faculty and Staff) | *$115.00 |
| Students, Children Ages 5-12, Seniors & Persons with Disabilities | *$70.00 |
Tri-Rail Shuttle
To make your commute to FAU simple and effortless, Tri-Rail offers a free shuttle service from the Tri-Rail station to FAU and vice-versa. 
For a detailed information, please visit Tri-Rail's website: 
Bus Schedule: Click Here
Bus Map: Click Here